For 79 million students in the US, picking the right school backpack is a big deal. I have watched each of my grandchildren and their parents get very confused trying to select just the perfect (that really means cool) school backpack.
School backpacks today are about more than function. They're a fashion statement, often a status symbol, an extension of a student's coolness. But with all the news coverage on serious back and neck problems from backpacks, parents are also very concerned about safety. So I decided to research the selection process and safety issues myself.
Here are the 7 criteria you should consider in selecting the right school backpack… and wearing it safely:
1  Weight – A Consumer Reports study in New York City schools found that 6th graders were carrying backpacks that weighed an average of 18 pounds, and as much as 30 pounds. It's important to select a backpack as light as possible. However, a much bigger issue is what students put into the backpack. The weight of a loaded backpack should not exceed 10-15% of the student's weight. For example, a 100 pound student should not be carrying a backpack that weighs more than 10-15 pounds.
So the real challenge is to monitor what students put into that backpack – including WEIGHING the backpack rather than simply guessing. And where allowed by a school, and if locker size will accommodate, a rolling backpack is a very good alternative,
2  Packing – The overriding question is this… is everything in the backpack really necessary to be there? Limit items to only what's essential. The heaviest items should be loaded closest to the child's back and in the center. Make certain whatever is closest to the back is smooth, with no sharp edges.  Look for a padded back to help. Then make certain items are arranged so they won't shift or slide around in the backpack.
3  Size and Fit – The height of a backpack should extend approximately 2 inches below the shoulder blades to waist level or, ideally, about 2 inches above the waist. The backpack should rest in the curve of the lower back, and should never rest more than 2 inches below the child's waistline.
A backpack should fit snugly on a student's back. A waist strap is helpful in distributing the pack's weight. Wide, padded shoulder straps are essential and BOTH shoulder straps should be used. Slinging a backpack consistently over one shoulder can cause a child to lean to the side, curving the spine and causing pain or discomfort. It looks cool, but it can be very harmful.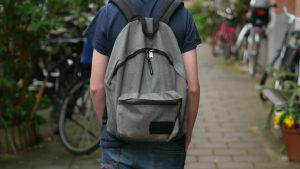 4  Features – The most functional backpacks have separate compartments that not only help the student organize items, but also help distribute weight in tight sections that prevent the items from shifting around. Other organizing aids include accessory pockets, an organizer panel for keys and other small items, a cell phone holder, water bottle holder, laptop sleeve, CD/MP3 player pocket, cord and headphone portals, and pen and pencil holders.
5  Durability – In a challenging economy, durability is even more important. Quality does count. Selecting a respected brand name that will stand behind their product is a good place to start. Sloppy stitching or loose threads are often an indicator of poor manufacturing. Raw, exposed fabric edges can fray, weaken fabric, and potentially get stuck in the zipper. Zippers should be covered with fabric flaps to prevent water from seeping in. Look for strong, waterproof fabrics like canvas, ballistic nylon, polyester and leather.
6  Style – To the student, style is a big deal. Bright colors and striking designs are making today's backpack also a fashion statement. But so many choices make the selection confusing. Our advice is to first make certain the backpack you select meets all your safety, comfort and functional needs. Style cannot outweigh these critical criteria because of the serious problems that can result from making a poor choice. Once you've found a backpack that does meet these criteria, go for it! Be distinctive. Pick a backpack that is very, very cool.
7  Price – The range of prices for backpacks makes it hard to decide what price point is the least you must pay for the quality and features you want. While there isn't a precise correlation between price and quality… most often, you get what you pay for.  Since manufacturers and retailers must compete fiercely for your business, they're not going to price a backpack more than they have to in order to compete.
Look for sales and discounted pricing on quality brand names that make quality more affordable. Keep in mind that, as children grow, their size and style perceptions change, so expecting too many years of use for a backpack may be a bit optimistic.
The most favorable buying experience is balancing quality, features and price to ensure the most VALUE possible. It IS possible to find a backpack that is cool, safe and affordable. Shop carefully. Buy with confidence. Then be proactive in making sure it's worn safely.
Have a great school year!