By Kate Wilber
Previous generations of school kids were stuck with dull backpacks. The backpacks you can buy for kids today are fun as well as functional and come in a fabulous range of designs. If you thought they were just for carting school books, you will be amazed by the innovative kids' backpacks available now.
Fun for Kids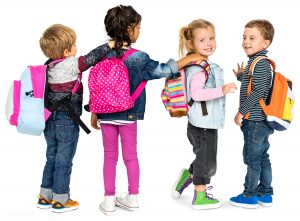 Kids today have a distinct sense of style and individuality that a backpack can complement. Whether it's a favorite color or a theme, any child will be able to find something that they can show off to their friends. Cartoon characters are another favorite.
Novelty backpacks are also amusing and a talking point with buddies. You may have seen backpacks in the shape of various animals, which look as if they are hitching a ride on the wearer's back. Ladybirds, monkeys, owls and turtles are some of the fun designs available. Transparent backpacks are another popular novelty choice.
If the purpose is for carrying school gear then a brightly colored or novelty backpack adds a light-hearted touch to the serious business of learning. Some manufacturers also offer co-ordinated accessories, such as pencil cases, lunch boxes and water bottles.
Choosing a Kid's Backpack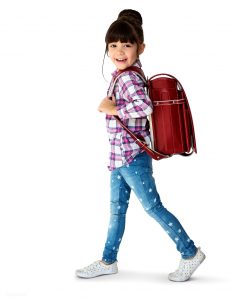 Backpacks come in all shapes and sizes and may be designed for different purposes. A standard size kids' backpack is usually not bigger than about 16 inches in height. Fitting the backpack is important, since the wrong size can cause back and shoulder problems, especially if overfilled.
Today's backpacks are typically ergonomic in design for maximum comfort and with health considerations given priority. Straps are designed not to cut or chafe but are padded to ensure that it fits snugly on a child's back. Well-designed backpacks also ensure that the weight of the contents is evenly distributed.
Standard backpacks are often only designed for lighter items. Books are typically heavier and you may want to check the quality of the material and the stitching if it is to be used for schoolbooks or any heavier items. If the backpack is going to be used in all weathers, it's worth remembering to check whether the material used is waterproof.
Special Features
Backpacks are made with all sorts of special features that a child may need. For most children one or two outside pockets are usually enough but you may want a design with extra storage compartments.
If children are likely to be carrying heavier items, then combination backpacks ('rolling backpacks') are available, which include wheels and a foldaway handle. Backpacks are also available in eco-friendly versions, using recycled materials.
A quality backpack will give your child years of use, guard against potential back or neck injury and give him or her a great deal of pleasure as an added bonus.
Article Source: Trendy Backpacks Are For More Than Just Carrying Books to School