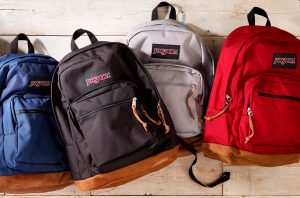 The Big Student backpack is a backpack that has been around for a very long time. In fact, here is what a reviewer said in 2002,
"I think that this bag is great for the high school student straight through to grad school. It's the perfect size to tuck away the many books you'll have to tote, along with other essentials like pens, calculators, even a cell phone."
Two things keep a product at the head of the pack year after year: quality and popularity. The JanSport Big Student backpack has been a leader in both for well over a decade.
It is Big On Capacity
It is popular because it simply delivers on what it promises. First, it is Big. The carry capacity is more than generous, able to accommodate the largest loads that may be required by the high achieving high school student or serious University student.
Dimensions
– Size 17.5″ X 13″ X 10.12″
– Weight 16+oz
– Capacity 2100 cu. In.
– Linear Inches 40.62
The two large main compartments give it the appetite for large loads. Oversized chemistry books or law books are readily devoured. Although not touted as a Laptop backpack, either of these compartments certainly have the dimensions to handle the typical laptop computer.
The front compartment on the Big Student backpack has a water resistant zipper configuration and is the typical organizer for pens, keys, cards and other small items that are best secured in Velcro pockets; mesh pouches or on clip rings.
The organizer compartment is flanked by two small zippered pockets, one above the organizer which acts as an easy accesses pocket for your cell phone or iPod or calculator. The other is on the outside of the organizer and simply provides extra storage for small items that can be accessed readily.
However, besides its popularity based on functionality the JanSport Big Student backpack also delivers on quality. It has a well deserved reputation of being extremely durable. This comment about durability is pretty typical of users of these backpacks:
"13 years ago my then twelve year old daughter purchased a pink JanSport backpack for high-school. That same backpack is still going strong today! It has taken her from high-school, through college, and even served as the BEST diaper bag for her 3 baby girls. Just this past weekend the grand daughters came for a visit and I washed the now "diaper bag" and it looks new–almost! "
Not all of the styles of the Big Student pack are constructed of the exact same material but by and large it is a very durable, highly water resistant 600 – 1000 denier poly nylon. The back of the bag is padded for comfort and the shoulder straps are wide, padded, contoured S shape to help ease the stress of a heavy load. In fact, one of the more common complaints is that the shoulder straps seem to be too stiff for some people.
At any rate, the material and its solid construction result in years of rough handling with little problem or complaint. Which raises a point we might make in passing and that is that the Big Student backpack is not suited exclusively for the demands of academic life. It can make a very good daypack for the hiker or backpacking enthusiast as well.
Finally, a word of caution needs to be made regarding the age appropriateness of this pack. The name really says it all. This is a backpack for a Big Student. It is a big bag designed to carry a large load. This is not appropriate for younger, smaller students. Backpack safety guidelines for younger students need to be heeded: The American Occupational Therapy Association suggests that students should not carry backpacks that weigh more than 15% of their body weight. Therefore, a child weighing 100 pounds should not carry more than 15 pounds in their backpack.
Safe Backpack Features
• light weight backpack
• padded, adjustable shoulder straps
• adjustable waist strap
• backpack no longer than the length of the torso
The Big Student pack has no adjustable waist strap; is designed for heavy loads not lightweight; and has an overall linear length of over 40 inches. Even more critical than age, the students size is the key factor. So this backpack is not going to be right for everyone.
There have been a lot of high school and college students who were looking for high capacity and outstanding durability in their backpack over the years and they found it in the JanSport Big Student backpack. That track record is not likely to change anytime soon as this backpack continues to build on its heritage.
Article Source: Why the JanSport Big Student Backpack Is a Favorite Year After Year