Three tips to help you decide on a new hiking backpack are design, size and fit.
1. Design – Backpacking backpacks or hiking backpacks come in two design choices, external frame backpacks or the internal frame backpack.
The internal frame backpack is the most common these days. They hug the body more and are generally lighter in weight. They also tend to centre your load closer to your body's natural centre and allow hikers to be better balanced which is especially important when hiking off trail.
External frame backpacks do not hug your body as much which actually allows more air flow between your backpack and your body. Although this type of hiking backpack is not as popular these days they are worth looking at. They are great for larger, heavier loads, come with more external compartments for organizing your gear, can be a lot less expensive but are probably better for on trail hiking only.
When you head to your favourite outdoor store, ask to see both design choices and try them on for comfort and fit before deciding which type of backpack to go with.
2. Size – Hiking backpacks are sized by litre capacity. The litres determine how much will fit into our backpack. Decide how long your hiking trips will be to determine what size your backpack needs to be. There is no sense buying a hiking backpack that is larger than you'll ever need. You'll end up carrying extra weight around with you as well as the bulk.
3. Fit – As well as being physically fit for hiking, it's also very important for your backpack to fit you properly. All hiking backpacks are sized by torso length. This means from that bone you feel at the base of your neck to your natural waistline. A good outdoor store will measure your torso first to determine what size of backpack you need.
Once you know what size you need the fun part begins. Trying on different makes and models. For the internal frame backpacks I highly recommend looking at Osprey backpacks. They actually have adjustable torsos and heat molded hip belts.
Make sure you fill each backpack you try with weighted gear to give you a more accurate idea of how the pack will feel and how you will be wearing it when it's full.
Adjust all the straps, starting with your shoulder straps and then your hip belt. Attach the chest strap and walk around. Not all hiking backpacks fit the same.
Many backpack manufacturers now make hiking backpacks specifically for women with narrow shoulder straps and wider hip belts. Worth trying on especially if you are a smaller framed hiker.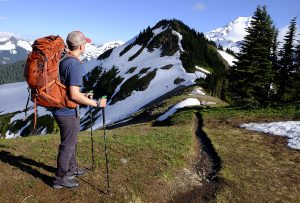 There is a lot to know about choosing the right backpack for you and I welcome you to check out http://www.family-camping-and-hiking.com/hiking-backpacks.html for more information to help guide you to making the right choice for a very worthwhile investment.
Happy Hiking!
Article Source: 3 Tips For Selecting a New Hiking Backpack